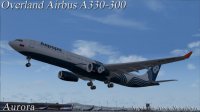 - Screenshot 2
- Screenshot 3
Fictional livery in the colors of the Russian Far East Airlines "Aurora" to a paid model Airbus A330-300 from Simmer `S Sky Overland.
Board number: VQ-BQY (in real life this board flying Aeroflot, named "Mikhail Sholokhov" and "Aurora" has no relation. Livery made at the request of the person who creates the same name of the Virtual Airline.
Texture format 32bit; made ​​on new Paintkit by Sergey Gleba.
Nice flight and soft landings!