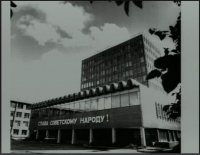 - Screenshot 2
- Screenshot 3
On 23 May in the institute the «RCAII-RAU-TSI – Bridge of Generations» Forum dedicated to the 90-th Anniversary of one of the world oldest aviation higher educational establishment took place.
In the premises of Alma Mater about 5000 graduates from all over the world have gathered. At a solemn meeting of the forum the graduates and educators have been greeted by the TTI Rector Eugene Kopytov, and, the former Rector of RCAII Nikolay Vladimirov has congratulated everyone with this event. Among the guests a cosmonaut Talgat Musabayev and many other outstanding people who had obtained their starts in life in our institute were present.
A transmission of the meeting was performed in the Internet that allowed many graduates who could not come to Riga finding themselves in their dear places beside their friends and teachers.
In the evening in the Riga Sports Manege, where gala concerts of the institute's amateur theatricals took place for many years, a general meeting was held. There were greetings of the RCAII Rectors, congratulations from the jubilee's organizers, and a festive cake, and performances of the KVN teams from Liepaja, Riga, Kiev, and congratulations from the veterans of the institute's KVN team that became the USSR champion forty years ago.