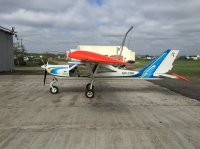 - Screenshot 2
- Screenshot 3

22.07, at 7.45 in the morning was my first solo flight. Such feelings I never experienced fear, confusion, totally different steering feel, the aircraft was not possible to find out, roll, pitch, pedal was not "my"! (because the instructor weighs 100kg and 395kg net plane, (my 96 does not count)), when he came out - a completely different management)
This is how to get 2 circles of hell)
fortunately everything ended well and were soft landing))
Many thanks to my instructor Komin SG and the family in which I have already 4th pilot!